Fat Cavitation
Fat cavitation is a non-invasive and effective procedure that uses ultrasonic radio waves to break apart fat deposits in your body. Fat cells are then absorbed into your body by your lymphatic system. Fat Cavitation treatments are meant to target small areas of fat to help contour your body. This is not a treatment for people who are trying to lose a lot of weight.
The recovery time for this treatment Is minimal and side effects are rare.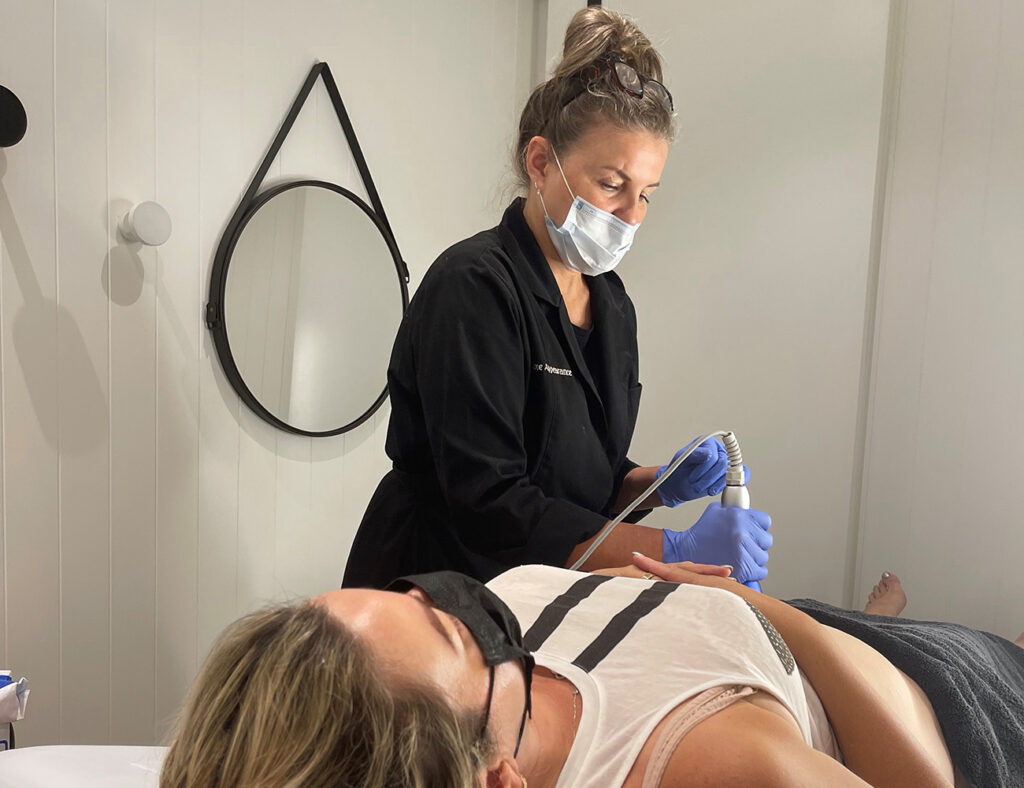 How does Fat Cavitation/ Body Contouring work?
Ultrasound is used to target specific body areas, using low-frequency sound waves to aid in the appearance of adipose tissue. Glycerin is applied to the skin as a slip medium, where the handpiece is worked into the skin using a firm pressure. Fat Cavitation treatments are non-invasive and pain free, but you are likely to hear the vibrations during the procedure.
Are there any factors that effect the results of this treatment?
The answer is yes, absolutely. The below factors will have an impact on how effective this treatment is. 
Diet
For improved body contouring results, it is important that you stay hydrated. Hydration both internal and topical, will increase the efficacy of the treatment. 72 hours is required as a minimum between treatments to prevent lymphatic overload.
To ensure the body is utilizing the newly released triglycerides and not the food consumed, it is recommended to consume a diet high in water (Fruits and vegetables). A diet high in sugar, fat and carbohydrates will overload the liver and less of the released adipose waste will be removed from the body.
Exercise
Exercise is also essential for the efficacy of the treatment. Ensuring the energy from the glycerides is used, as any energy not burnt off soon after the treatment will be reabsorbed by the lipocytes.
30 minutes of "Fat burning" exercise should be engaged in directly after the treatment. This can consist of anything that makes you sweat such as a sauna, walk or the gym.
How many treatments are recommended for Fat Cavitation?
The minimum number of recommended treatments are 6-10.
We recommend 10-12 treatments for effective results. Typically, individuals lose 1cm off the target area each treatment.
What areas can Fat Cavitation treatments effectively target?
Ultrasound Body contouring is recommended for the following areas:
Legs
Arms
Abdomen
Medial region (Knee)
Love handles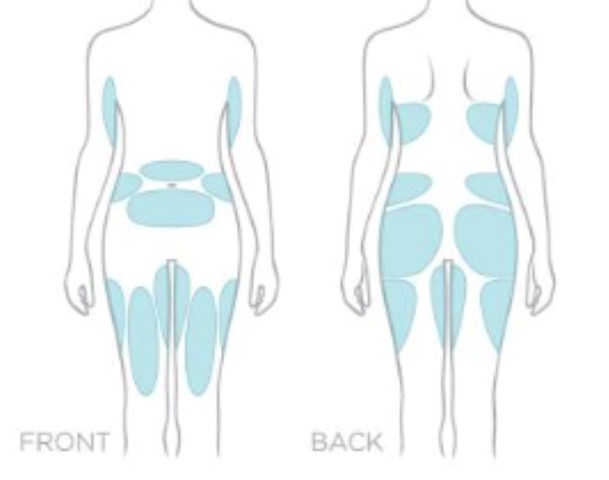 Are there any areas that are not suitable for Fat Cavitation Treatment? 
Fat Cavitation should not be used on the following areas:
Lower back over kidneys or liver
Breast tissue – both male and female.
Face, head and neck
Bony areas or joints
Over main lymph nodes
Behind the knees
Over reproductive organs
Are there any side effects from Fat Cavitation Treatments?
Fat cavitation treatments are non-invasive and pain free. However, there are a few side effects to be aware of:
Mild Erythema (skin rash caused by inflamed blood capillaries)
Swelling
Feeling sluggish
Bruising
Headaches/ flu like symptoms
Body Contouring – Vacuum Assisted Lymphatic Drainage
Vacuum suction is a therapeutic treatment that combines vacuum suction to lift the skin with a pulsating massage. It targets cellulite by improving lymphatic drainage and boosting circulation, aiding the detoxification process within the body as a whole.
Before and after:
How much does the treatment cost? 
Fat Cavitation Package:
6 Fat Cavitation treatments for two areas, $1600 total upfront.
10 Fat Cavitation treatments for two areas, $1999 total up front.
For the most effective and long lasting results, we recommend 10-12 treatments for fat cavitation. On average, individuals will lose 1cm each treatment from the treated areas.
This is for online bookings only and not in conjunction with any other specials.
" I feel 10 years younger.......what a transformation. Feeling and looking great. I am so happy with the treatment and service Sarah from Luxe"
"A luxurious salon with very professional staff and lots of smiles. I recommend the DMK Advance treatment my skin has never felt so good, thank you"
"The most amazing studio, the staff are totally fabulous and are so professional. Wouldn't go anywhere else. Thanks"