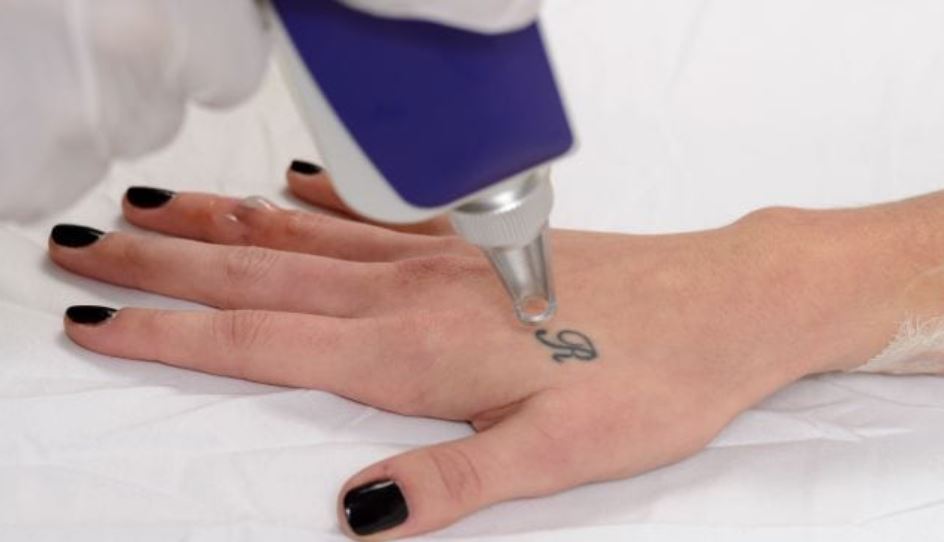 Tattoo Removal and Tattoo Lightning
Luxe Appearance is pleased to announce that our clinic is now using the industry-leading, premier laser tattoo removal and tattoo lightening machine. Clients looking for the latest laser technology for tattoo removal are encouraged to reach out to our office to learn more about this very exciting option. Please take a look at some of the common questions patients have when seeking laser tattoo removal.
The Latest Technology: How Does Laser Tattoo Removal Work?
While tattoo removal was once considered to be a very intensive, time-consuming process, there have been many innovations in recent years that make tattoo removal a realistic option for everyone. Using high-powered laser light, laser tattoo removal can often fully remove tattoos in just six to 12 sessions. The quality of the tattoo typically determines how many treatment sessions are necessary. At Luxe Appearance, we're able to remove both multi-coloured and single-colour tattoos. Our clients have success with removing both professional and amateur ink.
What to Expect: Is Tattoo Removal Painful?
It's understandable to be concerned about pain and discomfort when considering tattoo removal. However, pain shouldn't be a reason to shy away from taking this step if you'd like to get rid of a tattoo that you no longer enjoy. As a full-service Appearance Medicine clinic, Luxe Appearance is able to offer our clients a safe experience with minimal discomfort. In addition to offering the latest tattoo removal technology that has been designed with patient comfort in mind, we also have a Registered Nurse (RN) on site when removal procedures are being performed. The tattoo removal machine that we use at our office makes it possible to remove ink faster while causing less pain. Rest assured that pain reduction is at the forefront when conducting tattoo removals at our office. Our staff works hard to ensure that our patients feel comfortable and cared for at every step!
Can You Remove Black and Dark Blue Inks?
One of the benefits of working with experienced Appearance Medicine specialists is that patients can enjoy thorough, top-tier tattoo removal for difficult or challenging tattoo types. Many clients who come to speak with us here at Luxe Appearance regarding tattoo removal are concerned that the pigments used in their tattoos cannot be removed. This is a common concern among people with tattoos done in black, green, red and dark-blue inks. The tattoo removal machine used at Luxe Appearance is capable of dealing with all of these challenging ink colours.
Can Tattoos Be Removed From My Skin Type?
Luxe Appearance is capable of assisting clients with all skin types to lighten or erase unwanted tattoos. Additionally, we work with all types of tattoos. When you visit our office, we'll be happy to address any of the misconceptions that are floating around regarding limitations to tattoo removal.
Are You Looking for Tattoo Removal in Auckland?
The Luxe Appearance team is happy to meet with you to discuss how our cutting-edge laser tattoo removal machine can help you to get rid of an unwanted tattoo as quickly and painlessly as possible. Having a tattoo removed may be less complicated than you think!
Book an appointment with our office today to discuss your tattoo removal!
Still got questions? Ask them here.
"If you are considering any kind of appearance treatment please please do get in touch with Sarah and her team. As a nervous first timer, she made me feel extremely comfortable and as soon as you walk in and sit down for your first consult, you know you're in the hands of an absolute true professional, in a safe space, that lets you air your concerns and she just gently assists you with how these can be aided. I walked away feeling extremely happy with my results, and key, with more confidence. I'm so very pleased I chose Sarah - so down-to-earth and friendly; I've literally been telling all my friends about her since! Even if it's just a chat about what you think you might want some help with, make sure you give Luxe Appearance a call!"
"My very first visit to Luxe Appearance was a wonderful experience. Sarah is extremely talented in visualising where in my case Botox should be administered for a very natural result. One of the best results I have received after being a regular Botox user over the years. The salon is immaculate with a very professional and friendly atmosphere. I will definitely be back! :-)"
" I feel 10 years younger.......what a transformation. Feeling and looking great. I am so happy with the treatment and service Sarah from Luxe"
"A luxurious salon with very professional staff and lots of smiles. I recommend the DMK Advance treatment my skin has never felt so good, thank you"
"The most amazing studio, the staff are totally fabulous and are so professional. Wouldn't go anywhere else. Thanks"
"Beautiful studio, very professional and I have full trust in the service Sarah provided me. Def will be a reg costumer and recommend to others"